Regardless of the nature of your business, an online presence is the key to boosting your client engagement. According to research, it was found that 97% of consumers searched for a local business online at least once this year. Businesses without an online presence are missing out on these opportunities. In today's tech-centered society, businesses need stay up to date with the latest forms of digital marketing or they will lay forgotten in the yellow pages.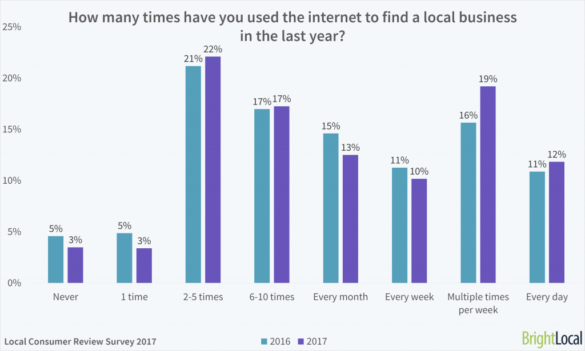 "Near Me" searches have increased greatly in the last 3 years as consumers are using Google to find businesses nearby that offer the services they're looking for. As a business owner, if you market to customers in your area based on their location, you can tap into these opportunities. These searches can turn into real customers when your business is visible online. 76 % of people who search for something nearby on their smartphone visit a related business within a day, and 28% of those searches result in a purchase.
The information the consumer finds online is just as important as being online. It may seem obvious, but its important to have your essential business information easily available online. Consumers look for a Google Business page and the business' website. If you haven't already, you can go to GoogleMyBusiness and set up the information for your business online that will show up in Google search results. It's important to have the most pertinent information on your home page and your address, contact information, and customer reviews on your Google Business page. If a consumer doesn't find the information they are looking for in the first 10 seconds on your website, they will leave.
Another great way to boost your online presence is encouraging your existing client to write a review for your business online. Online reviews are a great way to appeal to new clients. Positives reviews for a company increases consumer trust by 73%. Reviews can be left on your Google Business page, or you can include your own review section in your website.